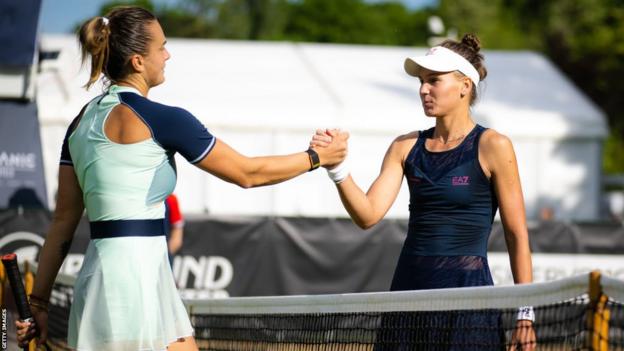 Wimbledon will be in lockstep with the other Grand Slams next week when Russian and Belarusian players can compete for the title again.
Banned last year immediately after the invasion of Ukraine, their participation this year was conditional on signing a personal declaration of neutrality.
That means they cannot express support for the invasion, nor for the leadership of Russian President Vladimir Putin or Belarusian counterpart Alexander Lukashenko.
They must not "carry or be seen with any item containing any image, symbol, flag, badge or emblem" that could indicate support for the war or for the Russian and Belarusian regimes.
Players may also not receive funding from a state or from companies operated or controlled by sanctioned individuals.
BBC Sport understand the wording of the statement was tightened up last month to ensure athletes with contracts of this nature can show proof the agreement has ended.
The UK Government was the driving force behind the change, which will have to be overseen by the All England Club during the Championships.
The rules have been tightened with regard to the Russian Veronika Kudermetova. The 26-year-old world No. 12 is sponsored by one of the country's oil and gas giants, Tatneft, which was sanctioned by the European Union last June.
She wore the Tatneft logo on her chest on the women's WTA tour and may have originally thought it was just a matter of removing it.
"Right now I'm not breaking any rule," Kudermetova said at this year's Madrid Open.
"For Wimbledon, yes I know we are not allowed to wear insignia of our country. If I want to play Wimbledon, I have to take off the badge."
Any player wearing a Russian or Belarusian football shirt will also be in trouble – especially if it's the shirt of a military-linked club like CSKA Moscow.
World No. 22 Anastasia Potapova has been officially cautioned by the WTA for wearing a Spartak Moscow jersey ahead of a match against Jessica Pegula in Indian Wells in March.
"This was neither acceptable nor an appropriate measure. We do not expect anything like this to happen again in the future," the WTA said in a statement. World No. 1 Iga Swiatek said Potapova should have realized it was unwise to show her support for the club at a time like this.
The championship umpire, Gerry Armstrong, will be the primary judge of whether rules are broken.
"I accept that any breach of the above terms may result in the withdrawal of my accreditation (and denial of the right to participate in the Championships)," the statement reads.
And there could be further ramifications if breaking the rules is considered unsportsmanlike conduct or even a "grave offence" under Grand Slam rules.
Russian and Belarusian players were repeatedly asked about their attitude towards the war.
World No. 3 Daniil Medvedev has repeatedly stressed that he is "for peace around the world" but felt unable to condemn the invasion more strongly.
Many have expressed similar sentiments, although his friend and world number seven Andrey Rublev wrote "No war please" on a camera lens right at the start of the conflict after winning a game in Dubai.
Australian Open champion Aryna Sabalenka skipped two media conferences at the recent French Open after being asked a series of questions about her own political beliefs. Returning to the room, she stressed that she did not support the war and therefore did not "support" it. [Belarusian president] Lukashenko right now".
Ukraine players have often lashed out at the cautious words of some, but see Russia number one Daria Kasatkina in a different light. You might not shake her hand at the end of a game, but you're grateful for the comments she made about the war she once described as a "full blown nightmare."
Spectators wishing to attend the championship, which runs from July 3rd to 16th, should be aware that all Russian and Belarusian flags and associated images will be banned from the grounds.
At the Australian Open in January, Novak Djokovic's father Srdjan was filmed – unknowingly, his son later said – posing for photos with a man holding a Russian flag with Putin's face. He also wore a t-shirt with the pro-war Z symbol printed on it.
All members of a player's entourage follow the same rules. The visa application process seems to have gone smoothly, with most of it already being processed two weeks before the championships begin.
And now we're waiting to see if everyone sticks to the declaration they signed as a condition of entry.