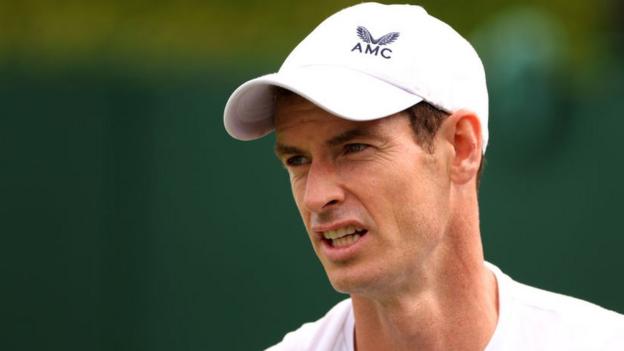 Andy Murray hasn't ruled out playing in Saudi Arabia when ATP Tour events are held in the Gulf state – having previously said he would not compete there.
The former world No. 1, 36, had previously turned down multi-million dollar bids to perform in Saudi Arabia.
But he says it will be a "slightly different" issue if the ATP – which has been in talks with Saudi investors – decides to move tournaments there.
"That's definitely something to think about," he said.
"Unfortunately, it seems to be the case in many sports at the moment."
Last week, ATP Tour chairman Andrea Gaudenzi said he was in talks with potential investors about the possibility of holding events in Saudi Arabia.
The country has long been criticized for human rights issues, including a lack of women's rights, the criminalization of homosexuality, restrictions on freedom of expression and the use of the death penalty.
Despite some reforms under Saudi Crown Prince Mohammed bin Salman, including lifting the ban on women driving, activists still describe Saudi Arabia's human rights record as "cruel".
Responding to Gaudenzi's comments last month, Murray reiterated he would not be playing in Saudi Arabia.
But reviving the issue at Wimbledon on Saturday, the Scot suggested he might be reluctant to play there if not doing so would have a negative impact on his career.
"In the past when we've been asked to play there, we've been asked to play exhibition tournaments," said Murray, who has turned down offers of up to £1.5million in recent years.
"If they become big tournaments on the tour, that's a slightly different and difficult question."
"It would depend on how the Tour and the leaderboards work and how important they are for attending other events."
"Of course, if you start missing them, you will be penalized for it."
Saudi Arabia has used its financial clout to increase its influence in the sporting world in recent years, leading to accusations of "sports laundering" to improve its global reputation.
Measures include funding for the controversial LIV golf competition and the sensational takeover of Premier League club Newcastle United by the Saudi sovereign wealth fund.
The Public Investment Fund has financed the lure of soccer superstar Cristiano Ronaldo to the country's domestic league, where several Premier League players with lucrative contracts have moved this summer, as well as hosting major boxing events such as Anthony Joshua versus Oleksandr Usyk.
Novak Djokovic, who is targeting a record 24 Majors at Wimbledon this month, believes it is only a "matter of time" before talks begin about Saudi investment in tennis.
"I think that as an individual sport on a global scale, we're probably the closest thing to golf in our view of sport," said the 36-year-old Serb.
"I think we can probably learn a lot from that example, some positives, some negatives, and try to structure a deal — if it's going that way — properly."
"That would have to protect the integrity, the tradition and the history of this sport, but still be able to develop it in a way that is appropriate."
Saudi Arabia has also reportedly approached the women's tour to host what could potentially be the prestigious finale of the season.
The WTA Tour 'can't escape' the Saudi issue, but there are still 'heaps of issues' to be resolved says CEO Steve Simon.
The great American Billie Jean King, one of the founders of the WTA and a longtime advocate for LGBTQ rights and gender equality, believes that the women's association must "engage" Saudi Arabia in order to bring about change.
World No. 1 of Poland Iga Swiatek said she is "ready to play wherever the WTA decides to hold tour events."