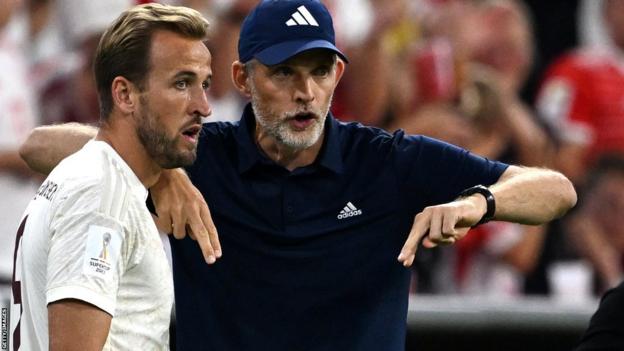 Bayern Munich fans could not have been more excited when Harry Kane finally arrived in Munich on Friday.
After more than a month of negotiations between Bayern and Tottenham, which were largely in the public eye, Kane had finally become a player for the German champions.
But just over 24 hours after his arrival, the mood was already clouded as Bayern lost 3-0 to RB Leipzig in the German Super Cup final.
Kane made his debut at Munich's Allianz Arena when Thomas Tuchel came on for Mathys Tel in the 63rd minute.
The Bayern boss felt guilty that Kane's debut was part of a defeat.
"I just feel sorry for him," said Tuchel after the game. "He probably thinks we haven't trained for four weeks."
"Our performance today had nothing to do with what we wanted to do. It's a very bitter evening, I'm sorry."
Tuchel's statement shows how much respect Bayern have for their new record signing. The long and eventually successful pursuit of Kane was determined by two factors.
During their rather disappointing campaign last season, Bayern's senior management had to admit that the lack of a quality striker hurt their chances in the Champions League and also allowed Borussia Dortmund to push them far too close to play in the Bundesliga .
While Eric Maxim Choupo-Moting has performed above expectations throughout the season, the 34-year-old former Stoke City striker was never seen as a long-term solution.
Sadio Mane was tested as the number 9 after joining from Liverpool last summer but that experiment has not yielded positive results and Mane now plays after stints on left wing and then on the bench in the Saudi Pro League at Al-Nassr.
Bayern reignited their interest in Kane a few months ago, having approached the Tottenham talisman back in the summer of 2022 after facilitating a move to Barcelona for Robert Lewandowski.
From a sporting point of view, a move made perfect sense for Bayern as they already have quality attacking midfielders at their disposal, most notably the experienced Thomas Muller and Jamal Musiala, who is a hot contender for this year's Golden Boy award – decided by journalists and bestowed on the best Players under 21 in Europe's top leagues.
Serge Gnabry, Leroy Sane and Kingsley Coman, the three wingers in Bayern's squad, also have the ability to supply Kane, whether on the ground or in the air.
She, and earlier Arjen Robben and Franck Ribery, provided Lewandowski with one deadly pass after another for years.
Going forward, Kane will likely not need to drop back into midfield as often as he has in the past at Spurs and in games for England as Musiala and others can design plays, but Kane will be the heart of Bayern's attack .
What is fascinating is that the 30-year-old has gone from boxing forward to number nine playmaker and back to boxing forward over the course of his career.
Much like Lewandowski, Kane is best suited as a tactical attacking man who knows how to gauge defense and find the perfect positions to score and provide assists. Therefore, Kane is the perfect successor to Lewandowski.
Kane represents elite status
The second reason Bayern have had their sights set on Kane for so long is perception. In the European elite, Bayern see themselves on an equal footing with Real Madrid and Manchester United in terms of awareness, popularity and marketability.
This claim was reinforced by those who made the club what it is today: Uli Hoeneß and Karl-Heinz Rummenigge.
The two former power brokers returned after the end of last season when Oliver Kahn, the chairman of the board, and Hasan Salihamidzic, the sporting director, were sacked from their posts.
Hoeneß, Rummenigge, Tuchel and Jan-Christian Dreesen, the new chief executive who led the negotiations with Tottenham chairman Daniel Levy, are in charge at the club.
They believe that signing Kane and his performances for Bayern will allow them to remain one of the hottest clubs on a global scale.
Unfortunately for Bayern, Kane's first appearance on Saturday was overshadowed by Dani Olmo, who scored all three goals for RB Leipzig and silenced the home crowd at the Allianz Arena.
But just as Bayern weren't discouraged by the fact that Tottenham turned down three of their offers in recent weeks and finally welcomed Kane as a new player, they won't be discouraged either by losing to a highly talented team.
In the coming weeks, Tuchel will work hard to integrate Kane tactically into the squad and create chemistry between the new star striker and the rest of the attacking department.
After ten seasons without a title at Tottenham, Kane has probably learned to be patient and wait for success.