The United States' first commercial astronaut has displayed his personal collection in a museum 19 years (and two days) after his first historic launch into space.
Mike Melvill and his wife Sally donated their archives to the Experimental Aircraft Association (EAA) Aviation Museum in Oshkosh, Wisconsin. The new exhibit opened to the public Friday (June 23) directly opposite and beneath a scale replica of Melvill's SpaceShipOne craft.
"The EAA Aviation Museum unveils the new Melvill Collection," the club posted on its social media accounts on Tuesday. "It honors Mike Melvill, the country's first commercial astronaut to fly SpaceShipOne 100 kilometers [62 miles] on June 21, 2004."
"Thank you to Mike and Sally Melvill for making this unique exhibition possible," the EAA staff wrote.
Though not as extensive as the museum's other two astronaut displays — the EAA has housed the archives of Gemini and Apollo veteran Frank Borman since 2018, and the memorabilia of X-15 and space shuttle commander Joe Engle since 2021 — the Melvill Collection not that big, it makes up for it in scope. The pieces on display speak to both Mike's career as a record-breaking pilot and the 62 years he and Sally spent together.
Related: SpaceShipOne: The first private spaceship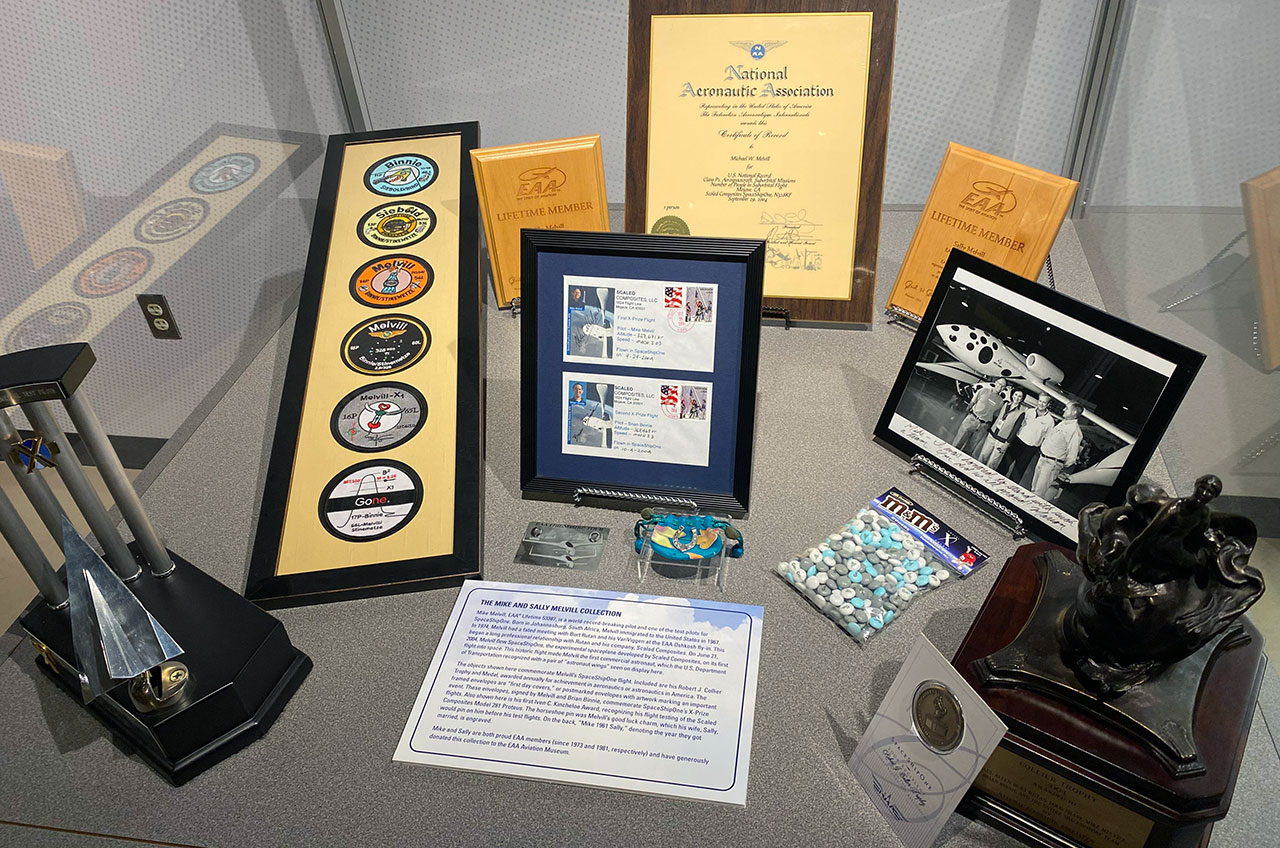 The exhibit includes the National Aeronautic Association's Robert J. Collier Trophy, presented to Melvill along with fellow pilot Brian Binnie, designer Burt Rutan, sponsor Paul Allen and the entire SpaceShipOne team in 2004. Also on display is Melvill's first Iven C. Kincheloe award, which he received in recognition of flight testing the Scaled Composites Model 281 Proteus, a long-endurance tandem wing high-altitude aircraft that paved the way for the SpaceShipOne launcher, White Knight (One).
Melvill's astronaut wings are also here. On the same day that he first flew SpaceShipOne over Earth's atmosphere, Melvill was awarded the first set of commercial astronaut wings by the US Department of Transportation. Today they are one of only 30 in existence. Although the Federal Aviation Administration (FAA) continues to maintain a list of qualified individuals, presentation of physical wings was discontinued in 2021.
The Melvill exhibition also features memorabilia from his career. Shown are two envelopes ("Envelopes") postmarked from the two X Prize space flights, each signed and carried into space by their respective pilots (Melvill and Binnie). There are also six rarely seen patches depicting White Knight and SpaceShipOne flights.
And then there's the bag of custom printed M&Ms in grey, blue and white. Melvill could not float around the cabin as he had to remain strapped to his seat. He demonstrated weightlessness by reaching into his pocket and pulling out a handful of the candy-covered chocolates. The spontaneous and unexpected sight of the June 21 flight led to Mars, Inc. becoming a sponsor of subsequent X-Prize flights.
The exhibit includes one of the commemorative bags of custom printed M&Ms that were distributed to spectators on both the September 29 and October 4, 2004 space flights. (The EAA also has some of Melvill's flown M&Ms, which were recovered from the bottom of SpaceShipOne after landing his first flight, but their addition to the exhibit is pending.)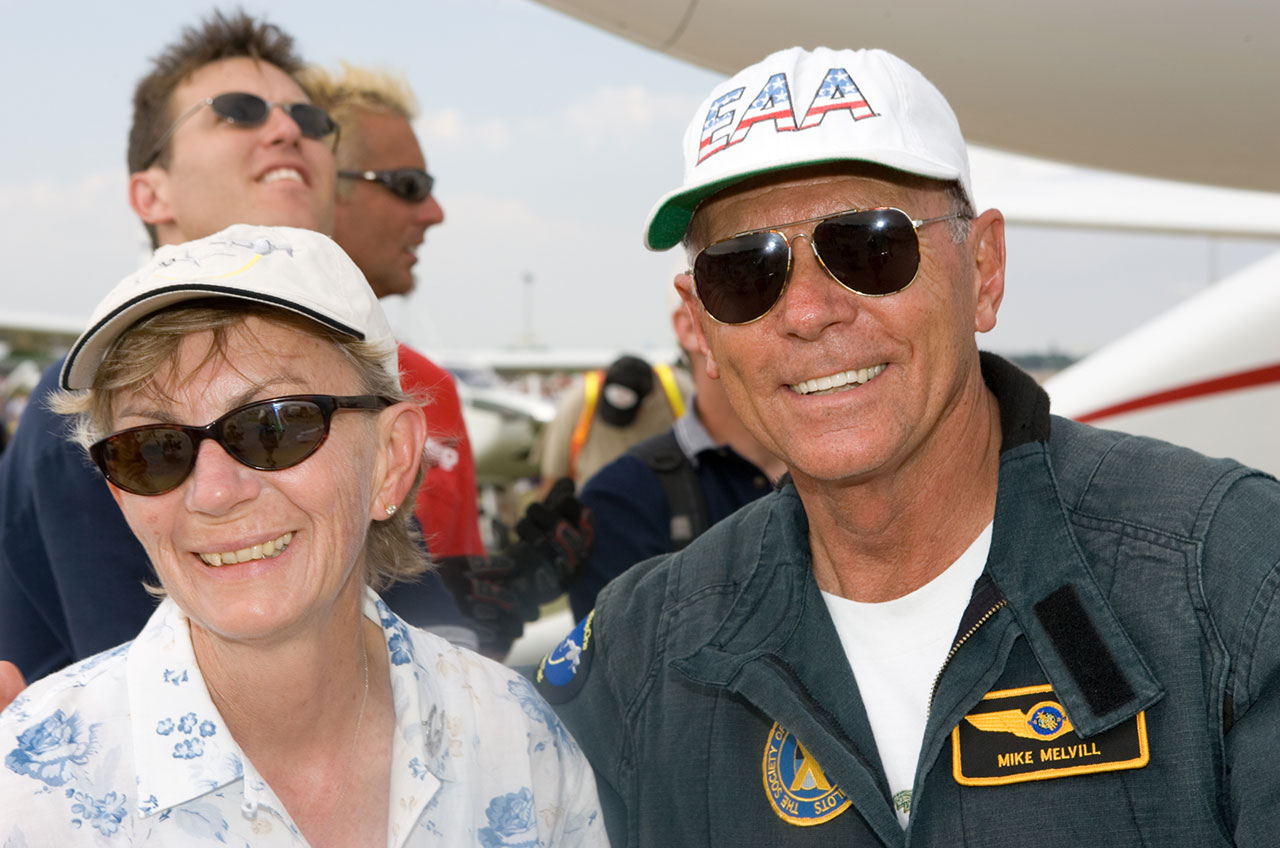 The exhibition is titled The Mike and Sally Melvill Collection, not just the Mike Melvill collection, and this is reflected in several items. Sally married in 1961, received her pilot's license in 1977 and the two worked for Rutan Aircraft Factory for more than 30 years. Both are EAA members for life (since 1977 and 1981 respectively), which is represented by two wooden plaques.
The centerpiece of the exhibit is a small silver horseshoe-shaped pin that Mike gave to Sally when she was 16. Whenever he took a risky flight, Sally gave him the pin to wear – including on board SpaceShipOne. It served as a good luck charm for Mike as he returned the needle to Sally after each landing.
Follow CollectSPACE.com At Facebook and on Twitter at @CollectSPACE. Copyright 2023 CollectSPACE.com. All rights reserved.