KENNESAW, Georgia | July 10, 2023
A research team from Kennesaw State University is working to develop new systems and software that could help first responders better handle 911 mental health calls in Georgia and beyond.
The idea came about when the Cobb Police and Fire Department recognized the need for help in dealing with the overwhelming number of 911 calls they were receiving from people in emotional distress.
"We met to better understand the scale of the problem they were facing and we are shocked to learn that up to 30 per cent of calls answered by police could be behavioral and require follow-up. Almost 11 percent of these could require immediate clinical intervention," said Monica Nandan, professor of social work and human services and director of strategic partnerships and social impact at the Wellstar College of Health and Human Services.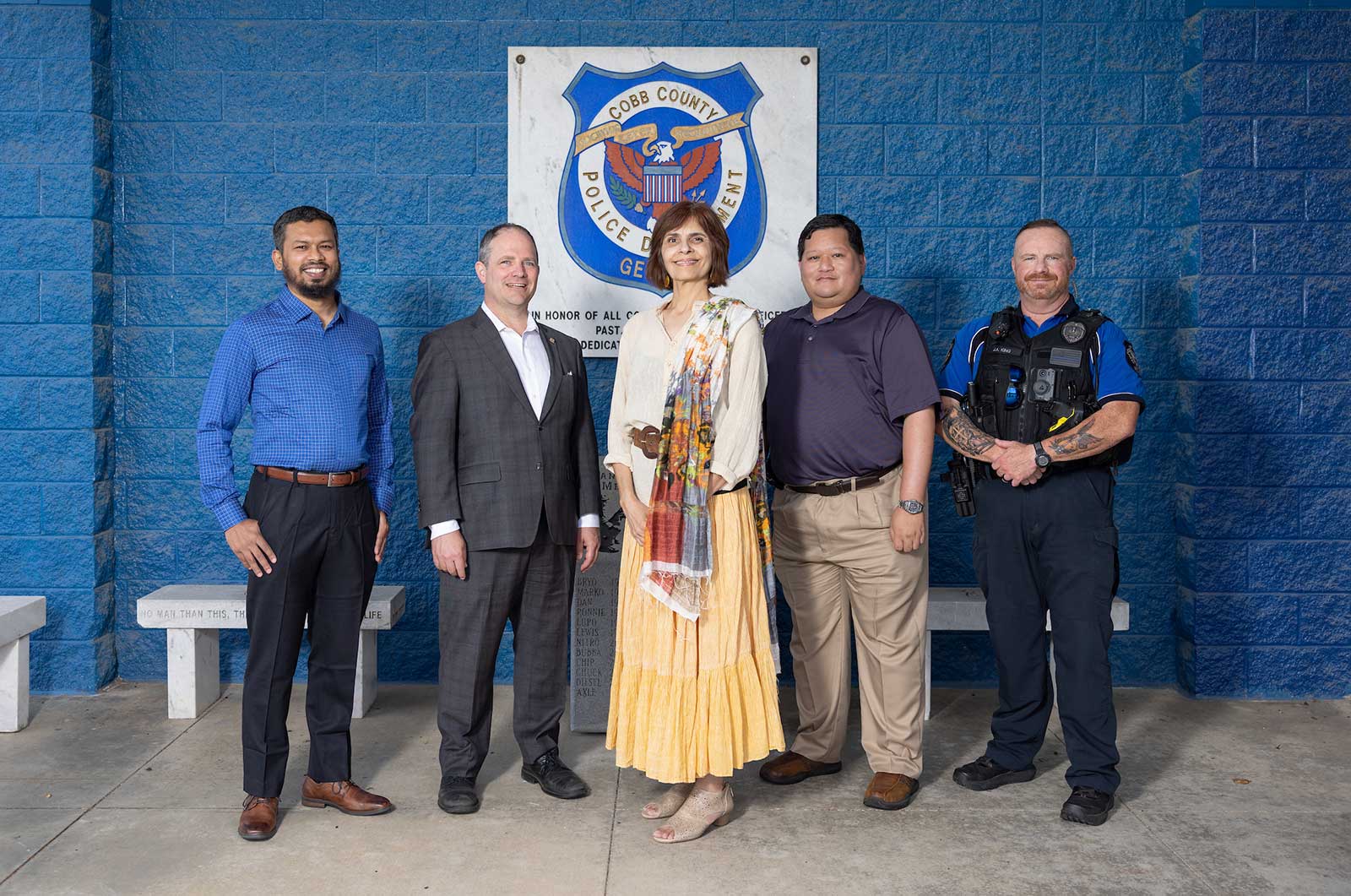 Working with the Cobb Police Department, Cobb Fire Department, local emergency services, the Cobb County Crisis Intervention Team, and district commissioners, the Kennesaw State research team uses de-identified police incident reports to develop systems to help evaluate calls and appropriate to send help.
"We know that many people with mental health crises end up in prison or in the hospital, and the number of calls that entail puts a great strain on first responders," said Dominic Thomas, associate professor of information systems at KSU. "We're trying to streamline and improve all behavioral health call systems, structure and workflow, and hopefully direct more people into something like crisis counseling, which is a better outcome for everyone than going to jail or the hospital."
Software under development as part of the project will allow authorities to search reports by keyword, type of incident and more, making it easier to track specific and urgent calls. According to Thomas, one of the team's priorities is to set up an interactive dashboard for the 911 call centers that operators can use in real time to refer the right responders — often a co-response team made up of a police officer and a licensed professional consultant — to identified Mental Health Calls. It will also allow for a more appropriate response to different types of crises and reduce call strain on first responders who are often overwhelmed.
"We're trying to ensure that our public safety department can quickly identify which calls require immediate behavioral health attention and which can be dealt with relatively quickly to ensure everyone involved feels safe and emergency calls don't need to be repeated," Nandan said .
The ultimate goal of the project is to provide better mental health care throughout Georgia and across the country.
Cobb County Police Officer Jacob King and Matthew Dames, a licensed professional counselor at Highland Rivers Behavioral Health, are one of two co-response teams the county formed in 2019. Three years after these teams were formed in Cobb, came the passage of a 2022 state bill that required each Georgia county to have a police officer and a clinician respond to mental health calls.
King and Dames said while the partnerships between police and mental health professionals have made a difference, KSU's work and development of tools for first responders would essentially end their reliance on outside referral sources to identify community members who need mental health help require.
"By being able to monitor incident reports in near real time for signs of someone who needs help, we can prevent cases from going missing because a formal referral isn't made," King said.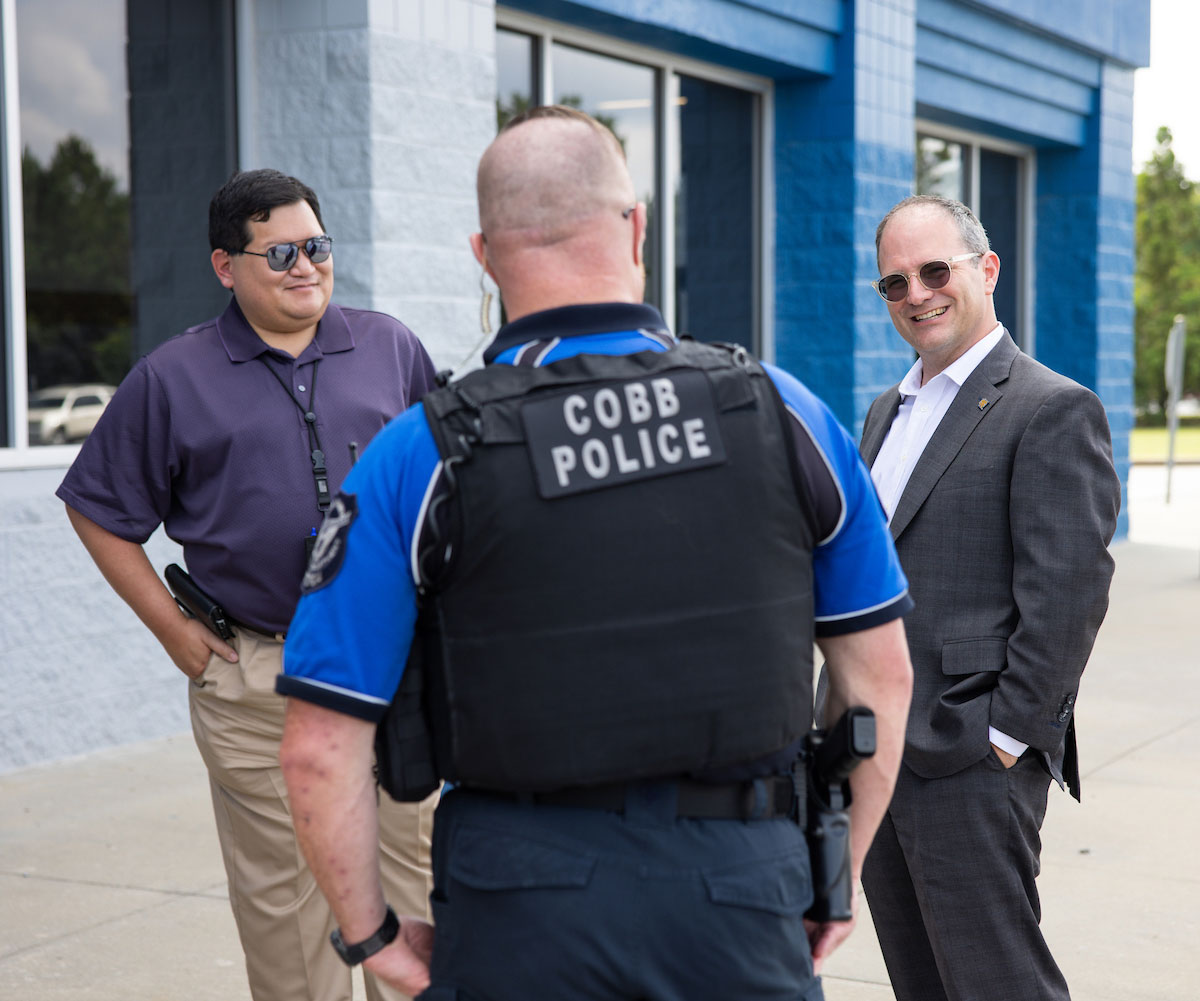 Although the scale of the problem is great, the focus on mental health response and treatment has not increased to the level it should, according to Md Abdullah Al Hafiz Khan, an assistant professor of computer science and a member of the KSU research team alongside Nandan and Thomas Yong Pei, Chair of the Department of Computer Science and Professor of Computer Science, and several Kennesaw State graduate students.
Once the team has Cobb County operational, they plan to expand to include city police departments within the county, as well as fire departments.
"As with many other things in Cobb County, when we start something and move it forward, it often spreads elsewhere," said State Senator Kay Kirkpatrick, one of Cobb's lawmakers who is also a physician. "I think obviously we have to have all hands on board to respond to mental illness and prison is not going to solve the problem." Having these partnerships to solve problems like this is a great idea and partnering with KSU will only strengthen them."
– By Thomas Hartwell
Photos by Matt Yung
similar posts
Kennesaw State University is a leader in innovative teaching and learning, offering bachelor's, master's and doctoral degrees to its more than 43,000 students. Kennesaw State is a member of the University System of Georgia with 11 academic colleges. The university's vibrant campus culture, diverse population, strong global relationships and entrepreneurial spirit attract students from across the country and the world. Kennesaw State is a Carnegie-recognized doctoral research institution (R2), placing it in an elite group of just 7 percent of US colleges and universities with R1 or R2 status. Visit kennesaw.edu for more information.