A crowdfunding campaign set up to "help find Rudy Farias," the Houston man who went missing as a teenager in 2015, raised more than $2,000 — although Farias, according to the Authorities at this time was not missing Thursday.
More than 30 people contributed to the GoFundMe account, which opened on March 22, 2015. Farias was first reported missing two weeks earlier, on March 7, a day after he allegedly disappeared while walking two dogs in his Houston neighborhood.
According to police in a news conference on Thursday, Farias had indeed returned home on March 8, 2015 – despite his mother's statement earlier this week that he was only found last week after being missing for eight years.
The revelation raised questions as to why the search for Farias continued and why his mother allegedly lied. Police have so far said they are not pursuing false reporting charges against Farias or his mother, Janie Santana, but their investigation is ongoing.
Santana has yet to publicly address the matter, and HuffPost was unable to get hold of her immediately Thursday.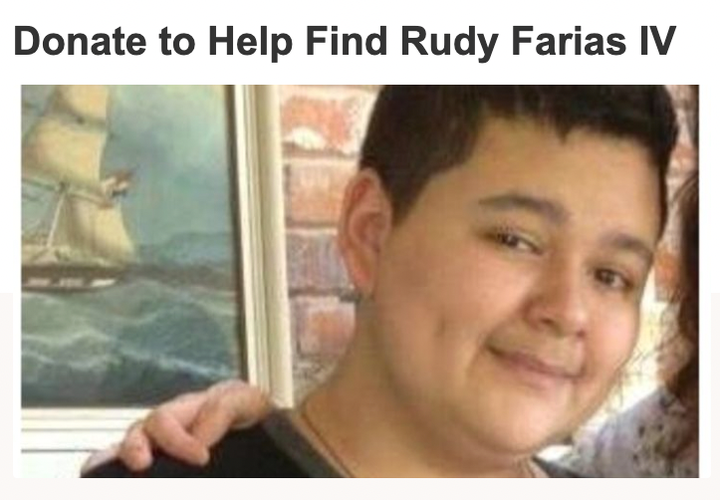 When asked by HuffPost, GoFundMe said it had suspended the fundraiser but confirmed it was raising money on Santana's behalf.
"GoFundMe has zero tolerance for abuse of our platform and is cooperating with law enforcement's investigations into those alleged to be wrongdoing," a spokesman for the crowdfunding platform told HuffPost. "The fundraiser has been removed from the platform and the beneficiary has been banned from using GoFundMe for future fundraisers."
An archived version of the fundraising page said they were raising money to offer a reward for information about Farias, help with the search, and provide financial support to Santana. The person who created it didn't respond to questions from HuffPost on Thursday.
"She needs financial support as she is understandably unable to work as her son is missing!" the GoFundMe campaign claimed. "The bills are piling up and Rudy's mother's health has also deteriorated as she is devastated…mentally…physically and emotionally exhausted!!"
The campaign said Farias' mum was "getting worse" with every day he misses, adding: "Time is running out!"
But Houston Police Department Lieutenant Christopher Zamora told reporters Thursday that both Farias and his mother have given false police names to officers in several places over the past eight years. Santana also misidentified Farias as her nephew to people who saw him, Zamora said.
"The mother Janie continued to deceive the police by insisting that Rudy was still missing," he said.
Meanwhile, other family members and a local activist have accused police of covering up details of the case, claiming that Farias was abused by his mother. When asked about those concerns, Detective Sgt. Stephen Jimenez responded and said that when he interviewed Farias, he said nothing about abuse.
"I'm trained to look for possible causes," Jimenez said. "I'm trained to watch for statements that may help me press charges or advance the case. And no, no statements have been made as part of these investigations."
"Rudy is safe. He is with his mother voluntarily," Zamora later said in the press conference.
In a statement released Monday by the Texas Center for the Missing, Santana claimed her son was found injured and "unresponsive" outside a Houston church.
"We would like to thank the media and the public for their support. "My son Rudy Farias IV was found Thursday, June 29 after being missing for eight years," Santana said. "We have no further information on Rudy's case at this time. What we do know is that at the time of his recovery, a Good Samaritan found he was unresponsive and immediately called the police and 911. My son Rudy is receiving the care he needs to overcome his trauma but at this point he is speechless and unable to communicate with us. We ask for privacy at this difficult time but will share further details as Rudy continues to heal."