All-inclusive resorts are known for having everything you need within property lines. Often there is hardly any need for guests to stay outside of the resort.
However, Melia Hotels International is changing the way travelers experience the communities and destinations surrounding all-inclusive resorts.
Paradisus by Meliá, the luxury all-inclusive hotel brand of Meliá Hotels International, recently unveiled a new "Destination Inclusive" program designed specifically to connect guests with local culture in imaginative ways.
The program began on April 1st and covers almost every aspect of Paradisus resorts, including the resort's design and amenities, the food and beverage, and even the entertainment. Beyond the confines of the resort, guests can now embark on unique excursions through Destination Inclusive "Experiences".
Available to guests of the newly introduced Nikté and The Reserve suite categories with an upgrade (as part of the nightly rate). Carefully curated by local experts, Destination Inclusive experiences are designed to connect guests with the natural world and surroundings of each resort location.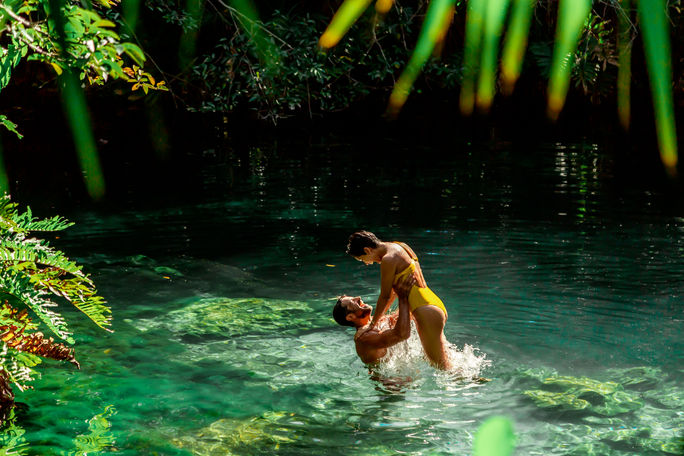 Private Yoga Classes, Exploration of Stunning Places and more…
What exactly does a Destination Inclusive Experience include?
At Paradisus locations in the Riviera Maya, which include Paradisus Cancun, Paradisus La Perla and Paradisus Playa del Carmen, guests can visit a local cenote led by a Mexican shaman for a private meditation and yoga class designed around it is to cleanse energies and connect guests to the natural environment.
At Paradisus Los Cabos, guests have the opportunity to explore the unique beauty of a nearby canyon that has existed for thousands of years. While exploring this awe-inspiring site, guests will participate in a spiritual yoga practice and sound healing led by a local teacher.
For travelers visiting the Paradisus Palma Real in Punta Cana, local experiences include the chance to climb aboard a private catamaran and be transported to a quiet, tranquil beach. There, guests take a course by the sea to connect with nature and the magic of the destination.
The captivating experiences on offer change throughout the year and are informed and designed with the expert advice of local curators.
"At Paradisus by Meliá, the destination plays a key role in creating a true adventure," said Susanna Mander, Global Director of Brand Marketing at Paradisus by Meliá. "We are very excited to offer guests the opportunity to discover the infinite pleasures of a holiday like they have never experienced before." These new offerings give our guests the opportunity to discover secret corners, enjoy authentic cuisine, local To meet artists and explore local destinations, giving a deeper understanding of their particular culture."
The Destination Inclusive program is not the only reason to book a stay at Paradisus by Melia now.
At the adults-only Paradisus La Perla in Playa del Carmen (which happens to be nestled in the heart of a lush mangrove forest on an idyllic white-sand beach), you can now experience an exclusive special when you book three nights and stay for four nights.
There's no better time to start booking your visit.
---
For the latest travel news, updates and offers, subscribe to the daily TravelPulse newsletter here.
Topics from this article to explore