Renk, South Sudan
CNN
—

Kueaa Darhok, wearing baggy pants over borrowed rubber boots, tries to make his way through the sucking mud and deep puddles on his way to the communal kitchen at the center of the transit camp he now calls home.
There, Sudanese refugees and returning South Sudanese wait under his reassuring gaze and gentle reassurances, while aid workers and local women scoop steel pots filled with lentils and porridge.
In Sudan, Darhok, who is of South Sudanese descent, was the principal of an English-language secondary school in the capital, Khartoum, where he taught his students texts by legendary African authors such as Chinua Achebe, in what he says instilled in them a sense of cultural pride.
After fighting broke out in Khartoum over two months ago, he and his family made the horrific journey back to South Sudan and he became a community elder here in the camp.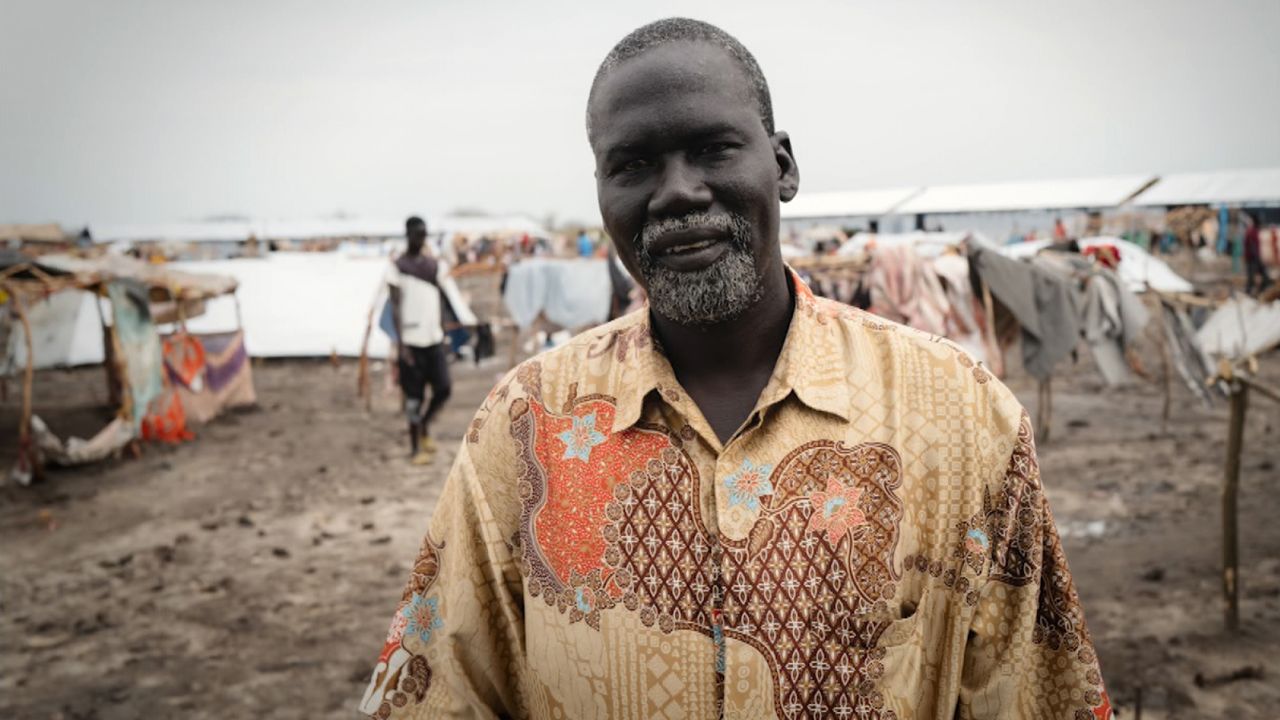 The Renk transit camp near the South Sudan-Sudan border was set up a week after fighting began in Sudan, when desperate families arrived in search of shelter. It should not accommodate more than 3,000 people. It now houses more than double that. There are no sanitation facilities, not enough waterproof sheets and not enough food. Not enough of anything.
"I eat once a day, sometimes not even that," says Darhok, keeping an eye on the food distribution. "Most of the men here are the same so that the weakest – the women and children – can eat."
Even then, Darhok says, not all who stand in line get food and return empty-handed to the expectant families.
The United Nations estimates that at least 860 people have been killed since fighting broke out between Sudanese forces and rival paramilitary Rapid Support Forces (RSF) on April 15.
As of June 3, 6,000 people have been injured across Sudan, half a million people have fled the country and more than 1.4 million are internally displaced.
Marked by decades of fighting both before and after independence from the Republic of Sudan, South Sudan was already Africa's largest refugee crisis, with 2.2 million displaced abroad and 2.3 million internally displaced. At least 800,000 South Sudanese have now been displaced by fighting in Sudan.
A spokeswoman for the United Nations High Commissioner for Refugees (UNHCR) in Renk, Charlotte Hallqvist, told CNN that an average of 1,500 people have arrived in Sudan every day since fighting began, adding to the strain on a country home to 75% of the population Need help.
According to Hallqvist, the UN's emergency response was already severely underfunded, "and the new emergency is putting additional strain on already limited resources."
To respond to the Sudan crisis, the United Nations needs $253 million, with the response in South Sudan alone requiring $96 million.
According to UNHCR figures, two months into the crisis, international donors have contributed only 10% of the total and 15% of the total regional emergency response in Sudan.
On June 19, the United Nations, the governments of the Arab Republic of Egypt, the Federal Republic of Germany, the State of Qatar and the Kingdom of Saudi Arabia, the African Union and the European Union will convene a high-level donor event in support of humanitarian aid in Sudan and the Region to increase donor contributions.
For many here in Renk it is too late; The belated response of the international community has already cost lives.
Malnutrition and unsanitary conditions are creating an epidemic of communicable diseases, and every day, Darhok tells us, a little boy or girl dies.
A CNN team visiting the camp witnessed the funeral of a boy not quite two years old who died of measles in the early hours of the morning.
His mother and grandmother sat in shocked silence as men shoveled dirt onto his grave at the local cemetery, pausing to erect a scrawny wooden cross before returning to their own tents and to their own families at risk and the specter of a death carried with them who could have been prevented.